A Welcome from our Chief Diversity Officer
Buffalo State has a long and continuing commitment to equity, inclusion, and an engaged diverse community. Our dedication and focus to this commitment exist in every sphere of the Buffalo State community. We seek outstanding employees and students to join us. Together we as a community represent every aspect of our state and our country. We are culturally and linguistically diverse; we represent diverse geographic locations; our gender diversity represents the world we inhabit; we represent every physical form and physical ability; and our backgrounds represent the economic diversity of our country. Together we come as a community of learners, teachers, administrators, professional staff, and support staff as we add our voices to the complex and multifaceted discussions that occur on our campus every day.
The Buffalo State community believes in the equitable and just treatment of all members of our community and the broader world around us. We seek to educate ourselves and others about the value of a diverse population and the importance of elevating equality as a united force to guide our world.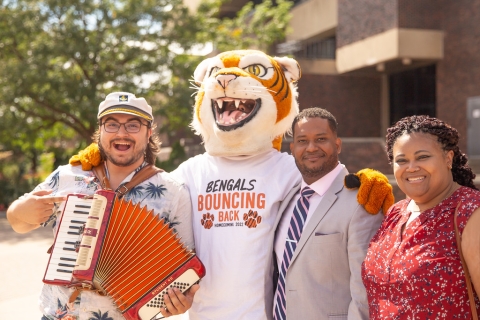 On these web pages, you will find the formal ways we track, propagate, and assure that equity permeates every corner of our campus. We will continue to advance the work we do in this area by engaging in rigorous and continual professional development. Advancing and promoting a just community is at the core of a Buffalo State experience. Please follow our work here as we strive for true excellence in all we do to promote and encourage equity, inclusion, and an appreciation for diversity.
Sincerely,
Lisa T. Morrison-Fronckowiak, JD
Interim Chief Diversity Officer
Our Mission
The Office of Diversity, Equity, Inclusion, and Access (DEIA) aims to advance, support, and celebrate inclusive excellence, diversity, social justice, and access, both on campus as well as throughout our community.  We believe that diversity makes us a stronger community as we look to prepare students to operate in a global society. Our office collaborates with students, faculty, staff, alumni, and community members to provide innovative and purposeful programming that reflects our diverse and changing world. Additionally, DEIA is the official designee of the college president to ensure that the campus abides by all federal and state laws and SUNY policies with regard to discrimination on the basis of race, sex, ethnicity, national origin, sexual orientation, gender identity, religion, age, disability or marital or veteran status.